Everybody LOVES to have an office. I know I do. I've always had an office. Does that mean I utilize it the way an office SHOULD be utilized? Noooo. I think we're all guilty of that. Who ACTUALLY uses an office to.. well.. work all the time? The correct answer should be "I do!", however the answer is "fail". I don't currently have a job (since I'm a student) but I do spend many, MANY hours in this office, that I fondly refer to as "black hole life consuming void of the house" writing and doing school work. The beauty of my UCF classes are that every single class I am in right now, is in a big lecture hall (like a normal college class) except they record them as well, so that if I am so inclined to stay home in my pajamas and feel as IF I am in class… well, I can. I don't take advantage of this NEARLY as much as I should, because I actually like to have a physical presence in class. I find the work is much easier when I'm there,  and not being distracted by a full kitchen and a coffee pot. They are hazardous to my health when I am in the vicinity of either for more than a few hours… [if there is still any content left in them].
I figured that since I've had the experience of attempting to utilize my office for what it's worth, I would attempt to share my misconstrued wisdom about "work" along to you. How do we work? Let me count the ways.
1) This application, called "Xmind" is completely free and supported by both Windows, Mac, Ubuntu and a few other platforms. Go to this link- Xmind and sign up for an Xmind account. If you have an OpenID, which chances are most of you reading this do not since I didn't even have one, you can use that instead. Just go to this page- Xmind Downloads, click to download with your choice platform, and log in. Or, once you sign up for a new Xmind account, you can download it as well. Either way, this thing is AWESOME. It's for mind mapping, the new organization and task related deal where you use visual objects to map out your progress. But it has SO MANY AWESOME THINGS! You can mind map and make it really custom too- the idea is that having it visually displayed will help you follow it and see the actual progress. Remember, people like to see results, not just words written down with no meaning. Here's a screen shot from my laptop: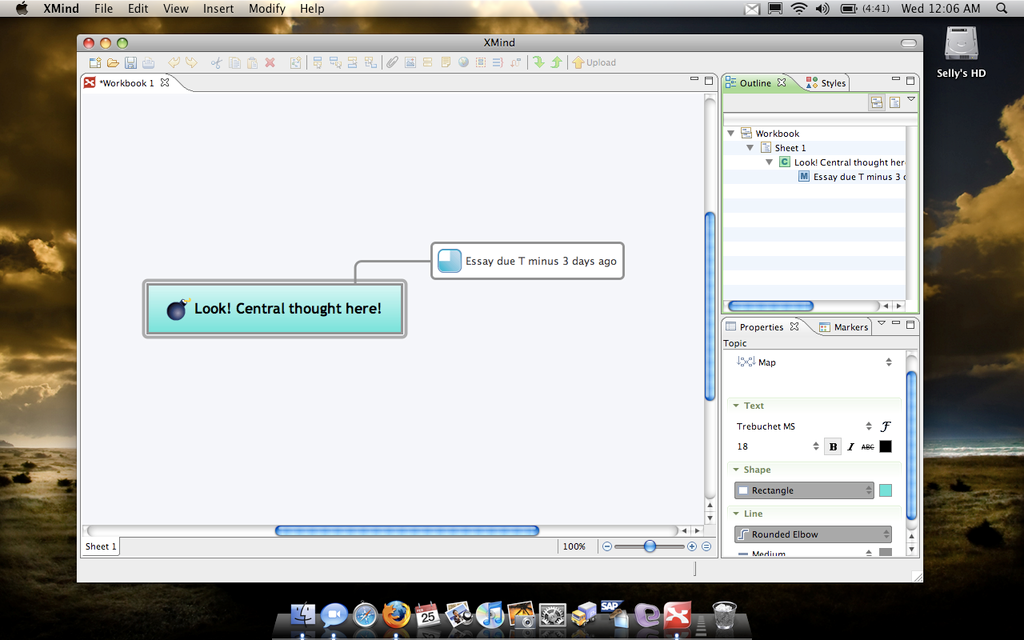 There's a lot to learn on this thing, so I'm starting to work with it. It's a weeeeeee bit complicated… it took me about 3 minutes to figure out the controls to show you those lovely two boxes. It's magnificent though!
2) Avoid the devil's temptation. That's right. You know just as well as I do what I'm about to say… what other massive time sink could I be speaking of? Facebook, Myspace and everything like that. While it's fun to know you're home "working" and you have the freedom to do whatever you want; you can't. This is what distinguishes successful "work from home" or "office in home" people from the… well  not so successful ones.  For every second that you spend mindlessly scavenging those websites you could be doing something to give yourself more time when you actually need it. For instance: Me attempting to write a 7 page essay while constantly checking every social networking site available in an attempt to avoid my mind numbing work could accomplish nothing and only adds an extra hour or two to write it. On the upside, I do however know that "Billy" is no longer in a relationship and "Susan" has a status message up spilling all the wonderful information about her pedicure.. or electrolysis.. or whatever the hell else she did today that nobody really cares about, and I can also see my own status message stated that I baked cookies! Of course I lied, because my cookies come out looking like brownies that are hard as bricks but… whatever, I'm not suzy homemaker over here lol. That time could very well be restructured into me actually finishing the essay in the appropriate amount of time and having EXTRA time after for mindless stalking and life updates.
side note: I was just referencing Bruce Wayne, not to be mistaken with Bruce Banner.. why is the name "Bruce" common to the Marvel/DC comics world? HMMMM?!
3) POST IT NOTES! I love post it notes, as I've mentioned MANY TIMES BEFORE! There's a new white board calendar thing that came out, with post it notes as the days! WONDERFUL OH MY GOD. These items are essential in planning your tasks, especially if you're not computer savvy, or just like the looks of colorful post its. Please visit this website full of heavenly goodness- POST-ITS!
4) Treat your day like any other day. I know it's fun to not give a crap and just do your work while lounging around (trust me! I know!) but it's much easier to kick start the day and feel like you're going to accomplish things if you wake yourself up the right way! That means get up, MAKE A FRESH POT OF COFFEE (note the important of that step… I would seriously take a shower before that if I was capable, but coffee holds a special power over me… mmmm), take a shower, throw on some nice clothes and clear your desk. Open up your organizer (you should have one! I harp on shane all the time but we're complete opposites when it comes to that stuff) and check what exactly you have to do for the day. ORRR! If you did what step 1 told you, open up Xmind  (avoid the temptation to stalk facebook/myspace) and look at what is ahead of you. You can make a list of things you need to tackle today, and things that can be left for later in the week.
5) Keep snacks on your desk. Snacking while working (or studying) makes me happy. I swear I could snack for all 1,440 minutes of the day.
6) Set actual working hours. While it's nice to take breaks and commence work for a while, only returning at 8 pm, think long and hard about it. If you have a structured "work" day, you can get up as late as you want, or work whenever you want, as long as its a constant block of time. Get up at noon if you want, but set your work hours until say… 6 PM. Then post it note (see step 3) or Xmind (see step 1) what you didn't finish so you can have it ready to go for the next day.
7) Make sure that your desk is clean (Aside from step 5 and step 3) but make sure!!!! and this is important!!!! that you don't have any old annoying notes hanging around that are already done or irrelevant. Throw them out, you pack rat! You'll feel more overwhelmed if there's old ones laying around (or stuck to your monitor). Having a nice clean work area will give you a supremely awesome peaceful feeling. If you own your house (or get approval from your apartment complex) pick a soothing color to paint your office, such as a nice neutral beige, a medium-ish blue, lavender etc. Having a new fresh coat of paint (that you pick out) can make your office extremely cozy :) Or, in the case of my hot chocolate brown family room, make you crave chocolate. Either way.. you have snacks, so no worries.
8) fueng shui like a badass! The layout of your office can make or break how comfortable you feel.
Another thought: I had somebody ask me yesterday if I had hazel eyes. Must have been the weird lighting in the room. Either that or somebody finally noticed the green line in my eye lol.
That is all for now. It's past midnight and I'm sleepy. I need to get up and run before class tomorrow and I can't do that if I'm half asleep and dreaming of all the post-it notes I wrote about in this post. Good night.