As many of you with netbooks prooooooooobably noticed, the windows 7 you recieve on the new ones is just the starter addition. Which means…. YOU CANNOT CHANGE THE BACKGROUND! This seriously irritated the hell out of me, because I like to be able to change and mess with things on my electronics… in fact, as shane would say, I am slightly (read: highly) OCD about the ability to customize.
I was searching high and low for some way to change the permissions or edit the system to override it, but I was not successful. I DID find this small tiny program that allows you to change the background without changing the system files. I haven't restarted my computer yet so I dunno if it stays, or if you have to change it everytime you turn it on, but either way- pin it to your dock and it's an easy switch. THIS MAKES ME SO HAPPY!  I took a picture with my iphone (because I left my camera charger in NY so I can't use my digital) so the quality SUCKS. The screen is blown out from the sun, but it shows that I do have the background changed on my netbook… if you look closely you can see it's windows 7 as well. the download link is directly after the image. LOOKY!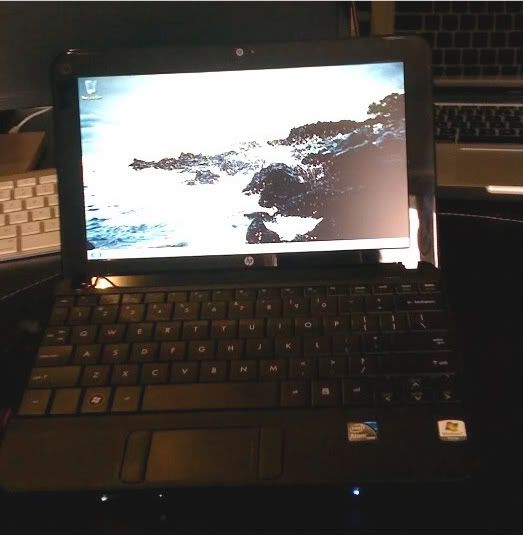 To change your windows 7 start background download and install this program and follow the yellow brick road to (possibly temporary) glory-
Windows 7 Start Background Changer
Hope this helps! Temporarily at least, when you get that itch to change your wallpaper and Bill Gates/microsoft team are exercising their nazi like ways on microsoft operating systems.
PS: Yes it's true, the boy received a Dell Mini 9 Netbook for xmas from somebody special (::cough:: me!) and we managed to install snow leopard on it! It works wonderfully! There's been some issues here and there that we had to fix, but everything works fine. It's cute seeing snow leopard on it. I think my HP mini might be next… if I can ever figure out HP and their damn recovery partition nonsense. Does anybody know how to make a recovery disk on an external drive rather than on a DVD? If so, comment on here or email me PUHLEASE! It would be of great help. selena.vidya@esvienne.com